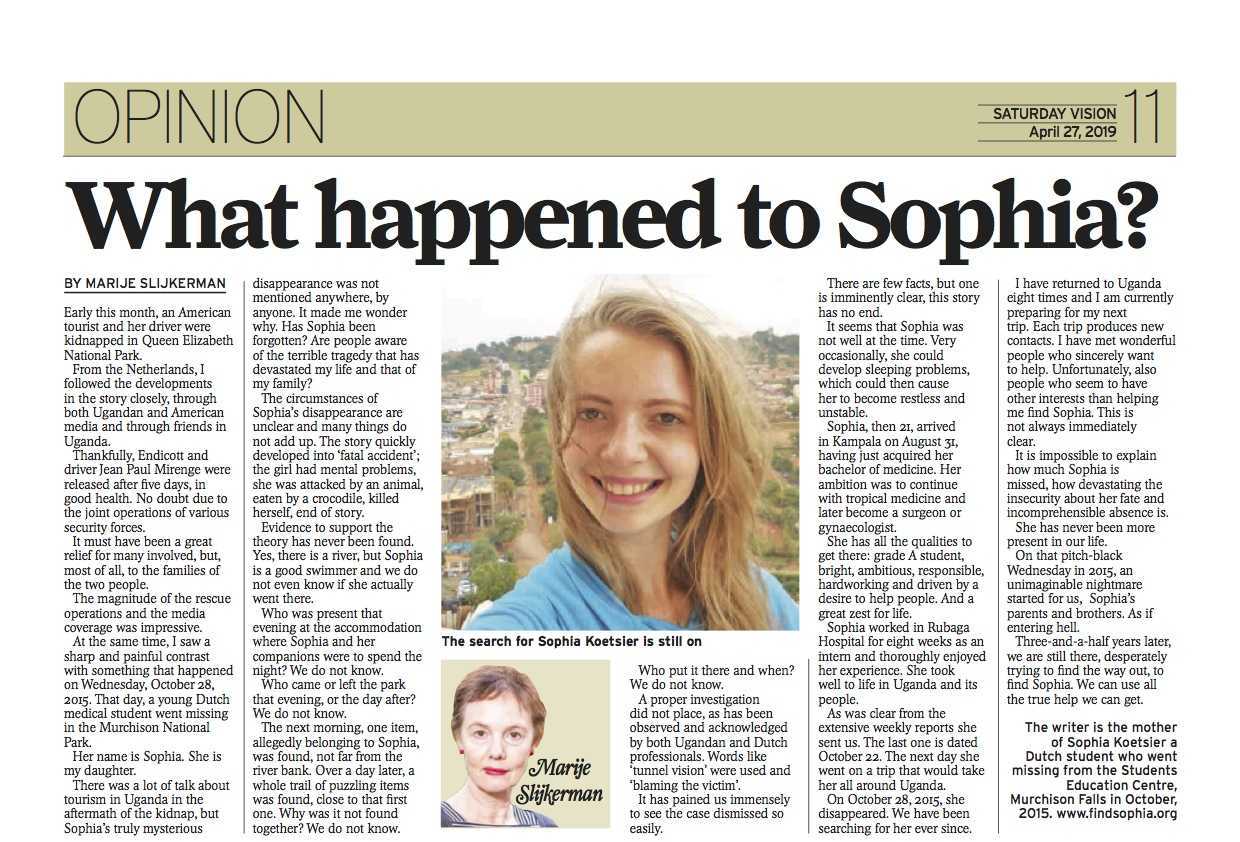 Early April an American tourist and her driver were abducted in Queen Elizabeth National Park in Uganda. This park is situated to the south of Murchison National Park and borders Congo.
A demand for ransom was made. After five days both victims were released.
The Ugandan media then carried a number of assurances by various officials that Uganda is a safe tourist destination. Something I don't really doubt but what pained us is that no one, nowhere, even said anything about the young Dutch tourist who disappeared in Murchison National Park, over three years ago, under puzzling circumstances.
Were they not aware of this? Had Sophia been forgotten? Or did they prefer not be reminded of that deeply tragic incident that has been dominating our life ever since?
I decided to write an article and offered it for publication to the two largest papers in Uganda: the New Vision and the Daily Monitor.
They both published. The Vision on Saturday April 27, the Monitor on Monday April 29.
The editor of the New Vision did make a few changes.
The paper combined my article with one about the abduction early this month.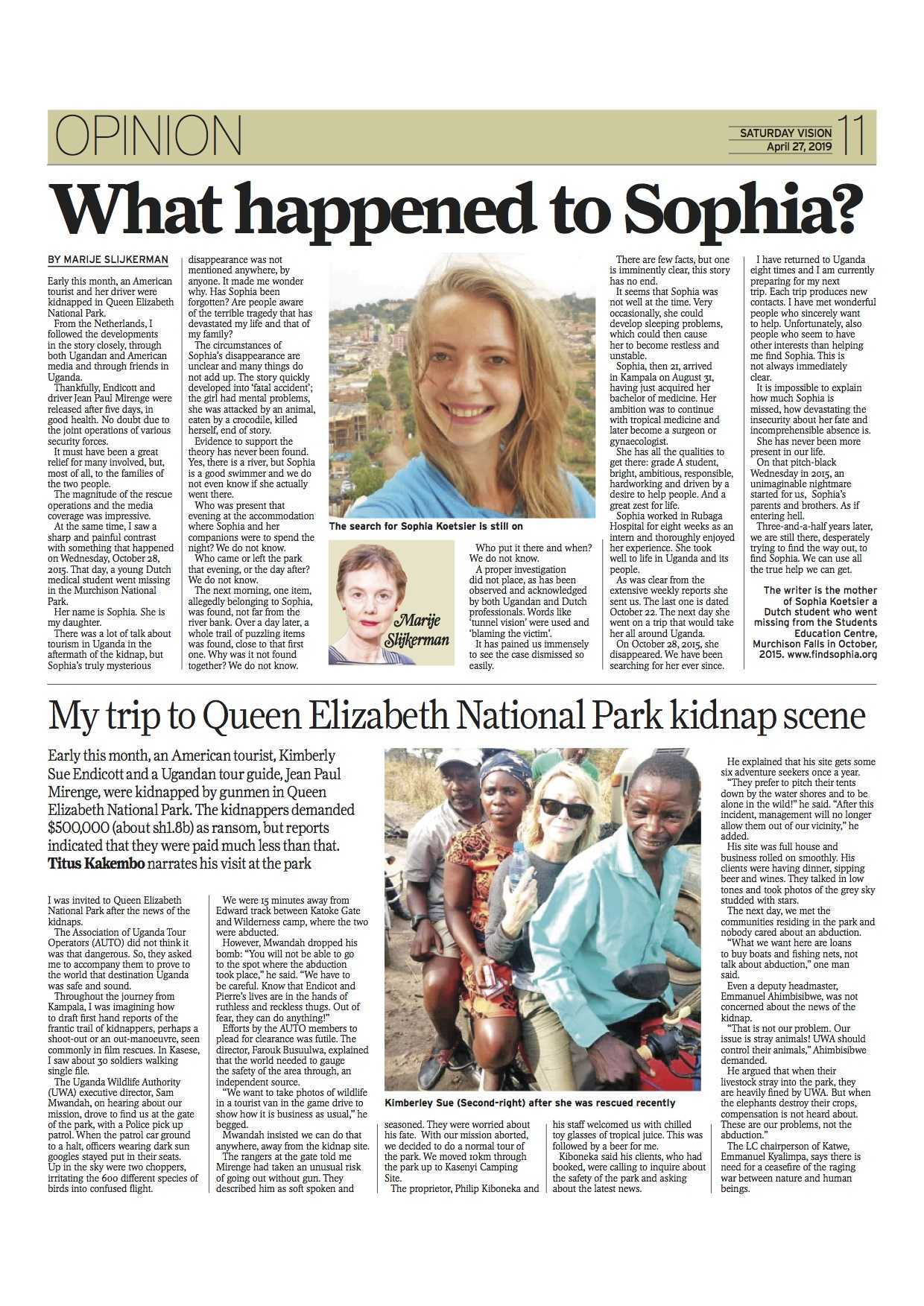 Below the link to the online version of the Daily Monitor:
https://www.monitor.co.ug/Magazines/PeoplePower/What-happened-to-Sophia-/689844-5090546-xct99b/index.html
The editor kept my words as I wrote them but we were taken by surprise by the article 'Four years later Sophia has not been found'. The headline is incorrect and the first paragraph very puzzling. The rest of the article lacks context.
The assumption that Sophia was attacked by animals is, again, repeated.
Ignored is the fact that no blood traces, no signs of a struggle and no remains were ever found. I was told rangers watched out for increased activity by vultures, in the days after Sophia went missing.
They did not see any. The strange items, found more than 40 hours after Sophia disappeared, also do not support the 'wild animal theory'.
But I'm glad my article was published, exactly as I wrote it.
Lacking a pdf of the paper version of the Monitor, we make do with a photograph of the page, kindly sent by friends in Kampala. The earlier mentioned 'Four years later' piece is on the same page.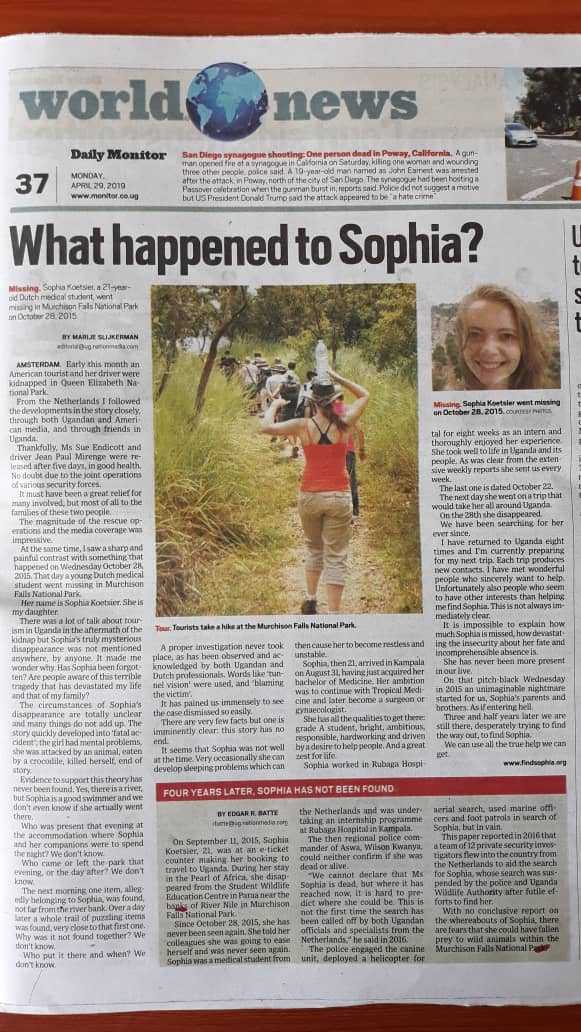 We hope that these publications generate and renew attention for Sophia's incomprehensible disappearance. May it lead us somewhere, closer to her.
Every 28th day of each month is a difficult day for us. A painful reminder that another month has passed, without Sophia. As every week, every day means one more day, one more week, without Sophia. And we do not know if the passing of the days, weeks and months, will bring us closer to her, or further away from her.
We keep searching for our girl and are grateful to everyone who helps us in this very hard, but so very important mission.
Marije Slijkerman
Gerard, Max en Jan Koetsier