The 28th day of October lies behind us again.
It is the day that confronts us in full force with the fact that Sophia is still missing, that we still know nothing about her fate and that yet another year has passed.
Seven in total now.
I vividly recall the day that phone call came, from one of Sophia's travel companions. It was a Wednesday evening, just after 9 pm, I was in Kampala.
'Sophia has been missing now for over two and a half hours' were the words that have left us in pieces, ever since. But we did not know that immediately. We thought she would show up, later that evening or the next morning.
That she would show up.
But she didn't, and days became weeks, weeks became months and months became years.
Seven in total now.
Will these painful, sad and very lean seven years finally end, and be followed by good years, like the ones we used to have before that cursed 28th of October in 2015?
Will the dark tunnel we've been forced to walk in, now finally end and lead us to the light, to Sophia?
We do not know.
But we do know that we shall continue to do all that is humanly possible to find our Sophia.
Two Ugandan newspapers published an article about these seven years without Sophia.
The New Vision on Friday October 28:
The Daily Monitor on Sunday October 30:
We have had many positive reactions about the 40 minute TV portrait of Sophia and her mysterious disappearance, made by Dutch Public Television.
We also received this wonderful recommendation: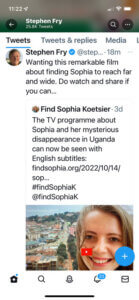 You should be able to watch the TV film through this link:
https://www.bnnvara.nl/breakfree/videos/587560
Regional restrictions should be fully lifted but some network providers and/or browsers may work better than others.
When network is not too stable you can use this link:
https://www.youtube.com/watch?v=UNNFOwS4WnY
We thank all those dear and kind people who keep supporting us in our plight.
It means a lot to us.
Marije Slijkerman
Gerard, Max and Jan Koetsier